Our Team
Our staff of expert veterinary doctors and skilled vet assistants and technicians are ready to help when your pet needs us. Contact us today to learn more.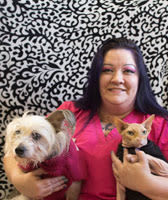 Wendy Granroos
Hospital Manager
Years ago I walked through the doors of Scenic Hills Animal Hospital; I had no idea what this place would soon mean to me. I love St. Paul and the clients and pets we get the pleasure to work with daily. I live in St. Francis with my two children who are almost adults now. I have three rescue dogs Emmit a terrier mix, Boo-boo a Chinese crested and Sir Pringles crunch of chipington breed unknown. I also currently have one sphynx cat named Cedric von tiddlywink the 3rd. When I'm not at work I enjoy fishing, kayaking, walks and rock picking. I am a huge movie buff and really enjoy "The walking dead". Very few people get to say they love what they do for a living, so I consider myself very blessed to get to do this job everyday.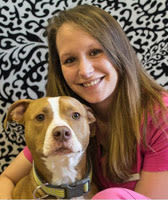 Nikki Hanson
Certified Vet Tech
I graduated from Globe College in Woodbury in 2014 as a CVT. I have always loved being around animals-both small and large. I currently live in St. Paul with my husband and new baby. I now spend my free time watching my son learn new things. I have one dog, Remi, who loves coming to the clinic for a visit. The clinic here has become my second home. I love coming into work and spending time with my coworkers and clients here.

Cassy Perrine
Vet Tech
I am a Vet Tech at Scenic Hills Animal Hospital and I have been here since 2014. I started out volunteering for about a year and then got hired here. I love my job here at Scenic Hills, because I get to build great relationships with pets and clients. Nothing is more important to us than the pets and clients that walk through our door. I also love working with the staff here because they always know how to put a smile on your face. They are my second family and I am grateful to work with such great people. At home, I have a beautiful 5 year old daughter names Isabella. My daughter and my pets are my world. I have a gecko named Yoshi, 2 ball pythons named Slater and Hopper, a hedgehog named Dartanian and a bearded dragon named Lip. I am a huge animal lover and can't wait to meet the pets and owners that walk into the clinic.

Nikki Williams
Vet Tech
I have been working here at Scenic Hills Since March of 2009. I recently purchased a home In Minneapolis with my spunky little black cat named Yoshi and my dog Pinot. I enjoy hanging out with my friends in my free time and I am a huge fan of music. I play the drums and enjoy watching sports like Hockey, Football and Baseball. I love playing video games such as "Call of Duty". I also love any and all animals and am very passionate about my job here at Scenic Hills Animal Hospital.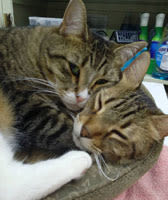 Linus & Tilly
Clinic Cats
Linus has been with Scenic Hills for over 7 years now. His daily tasks include, but are not limited to, the following: Making sure the staff keeps his very strict treat schedule. Demanding fresh drips of water from the faucet every couple of hours. Greeting pets as they come into the back of the clinic. But mostly he keeps his eye on all of the staff to make sure they are doing the best job they possibly can. Sometimes being the boss of a Veterinary clinic can be lonely so that is where we found his lifelong girlfriend Tilly. Tilly came to us about 5 years ago. Her daily routine is dedicated to finding the most insanely comfortable place and relaxing most of the day away. She has recently decided that laser therapy is the greatest invention EVER!! These two amazing cats are very much a part of the Scenic Hills Animal Hospital team and love our clients as much as we do.